High School Sailing
The LTYC High School Sailing Team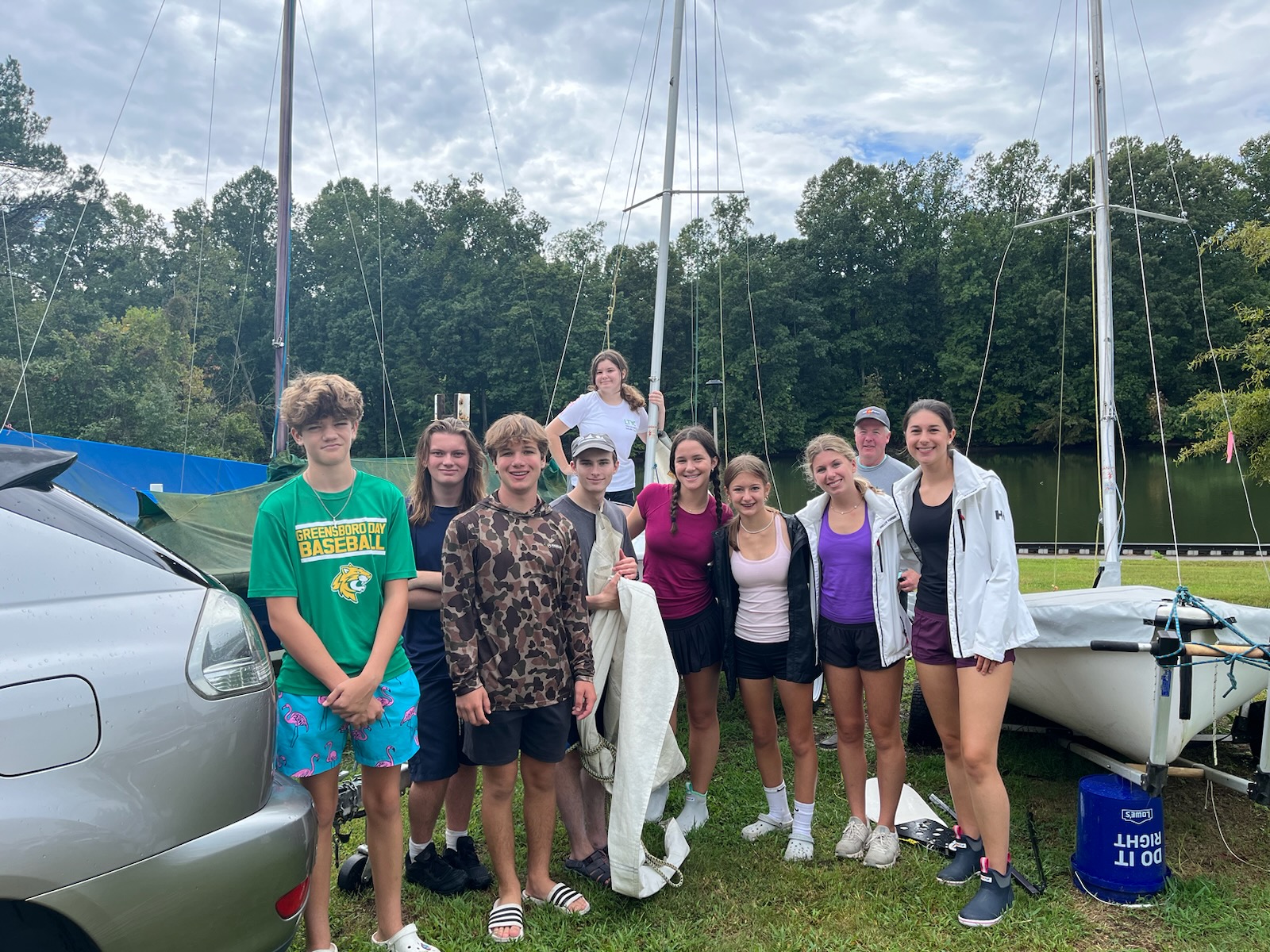 Lake Townsend Yacht Club is proud to offer a co-ed Composite High School Sailing Team for 8th through 12th grade students! High School Sailing is one of the fastest growing segments of sailing in the country, with over a dozen teams competing in North Carolina alone. Regattas are designed especially for teens, with short, intense races, and are based on team competition. Teens love sailing with their friends!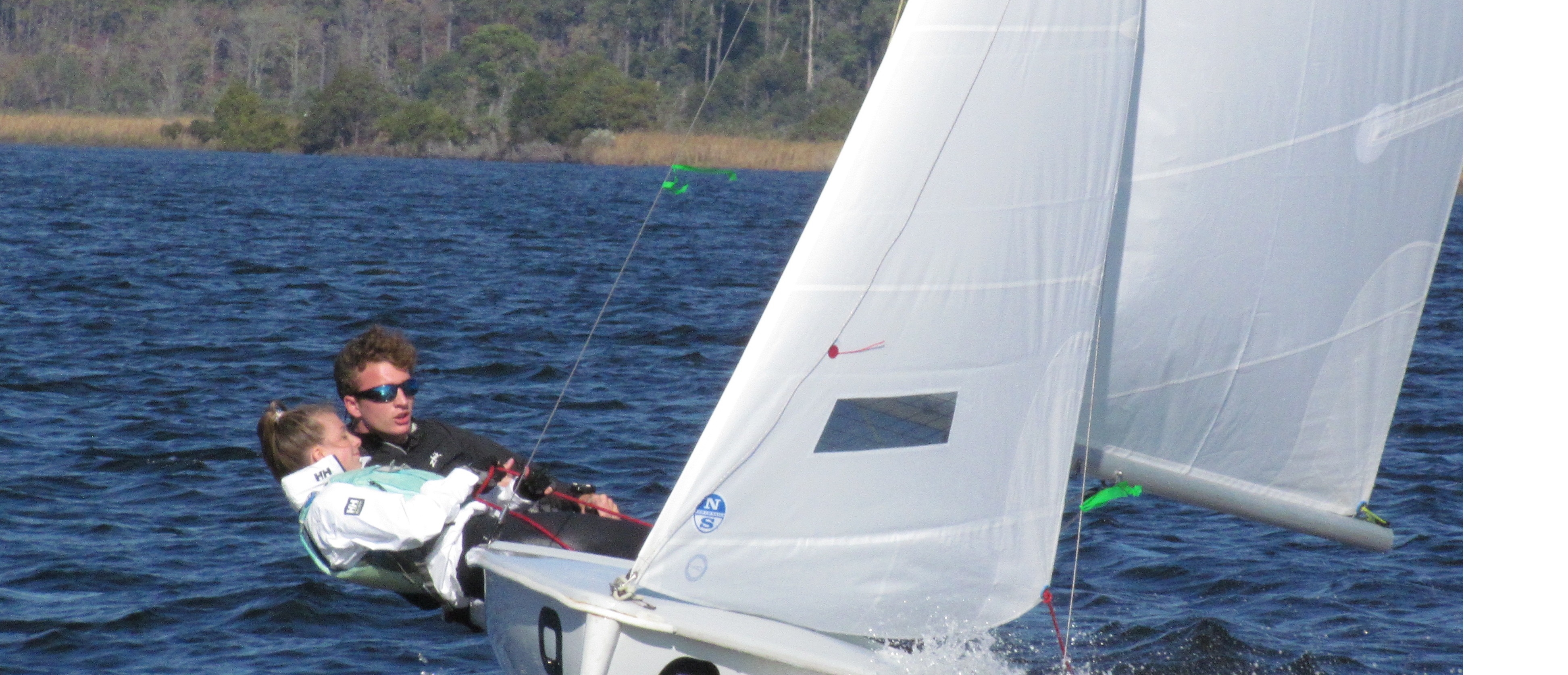 The High School Sailing Team
The team competes in the South Atlantic Interscholastic Sailing Association (SAISA) against other high school teams, with cumulative scores leading to divisional and national championships; and in non-point invitational regattas. The team competes against teams from Raleigh, Charlotte, Wrightsville Beach, Charleston and throughout Virginia, North Carolina, South Carolina and Georgia. The team also competes in the monthly Lake Townsend Yacht Club one-design race series and annual regattas at Lake Townsend. There are two seasons per year, corresponding to the spring and fall semesters. Members sail Club 420 class sailboats provided by Lake Townsend Yacht Club.
Practices & Regattas
Practices are held weekly at Lake Townsend, usually on Saturdays from 9am-1pm when regattas are not scheduled. Please check the season schedule for dates. The spring season starts in March and runs through early June. The fall season starts in August and runs through early December.
Regattas are held on weekends, and sometimes require travel, although most regattas are close enough to Lake Townsend to not require overnight stays. All practices and regattas are closely supervised by the team's coaches.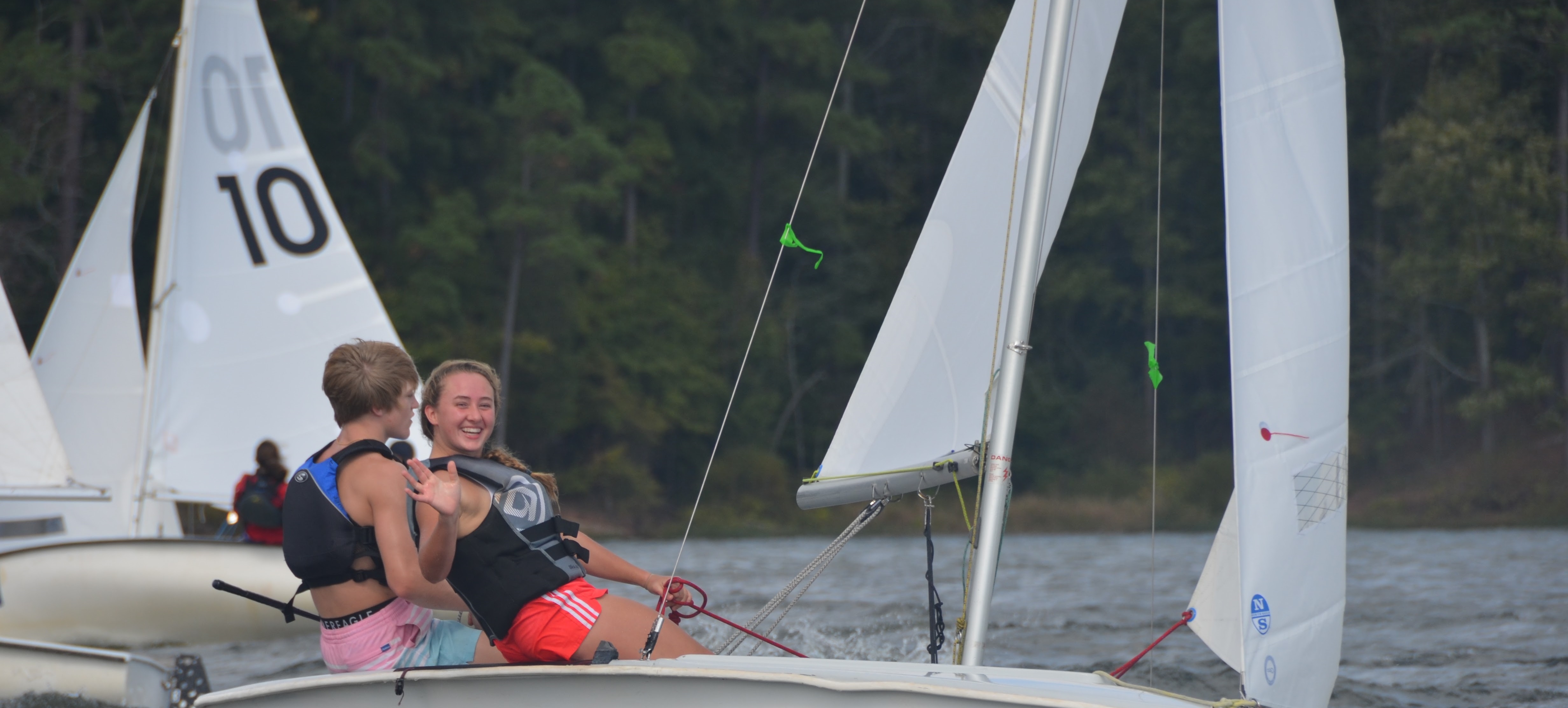 Requirements
Team members are required to be either in the 8th grade or in high school; they must be competent swimmers; provide their own approved personal floatation device and wetsuit for cool weather sailing; and must have completed a basic sailing course, such as LTYC's learn to sail class or equivalent. Prior racing experience is not required. All team members are required to join LTYC and pay a nominal participation fee per semester to cover expenses and to maintain the team's equipment. Members are not required to provide their own boats. Space is limited!
Attendance
We expect team members to make every effort to attend and support our team for practices and regattas.
Gear
Mandatory
Wetsuit (must be worn at coach's discretion)
Sailing boots/water shoes (must be worn at all times)
PFD (must be worn at all times while on the docks, ramps, and boats and must have a legible label that says US Coast Guard Approved Type III.)
Refillable water bottle
Bathing suit & tech shirt
Whistle (Useful if you are lost on the water (not too likely where we sail, but cheap to buy so why not?)
Recommended
Hat (both for sun protection and Wool or Polar Fleece Hat for warmth)
Sunglasses
Sailing gloves
Sunblock
Snacks for on the water-such as power bars to carry in your PFD
Dinghy Smock & Trousers (spray top or foul weather gear)
Rain jacket & pants
Waterproof Watch with timer (Used for marking time at the start of a race)
Wetsuits are Mandatory
Inexpensive, lightweight surfing wetsuits work best for dinghy sailing. We suggest a size larger than you would normally wear. The optimal thickness is 3/2mm. Wetsuits will become mandatory when the combined air and water temperature drops below 120 degrees or at the coaches discretion. Wetsuit boots make good year round sailing boots.
Helmets are Mandatory
The Sailing Team has helmets that will be assigned to each team member. The booms of the team's boats are not padded, so helmets will be required at the discretion of the coaches. An example will be if the winds are higher than 15 knots, either sustained or gusts. Any team member wanting to wear a helmet at any time is welcome to do so regardless of weather conditions.
Sailing Gear Sources
There are numerous on-line suppliers for sailing gear, including boots, gloves, PFD, etc. These include APS, Colie Sails, West Marine, and West Coast Sailing. However, it is best to wait on expensive items until you gain some experience. A bathing suit, tech shirt, water shoes and PFD from Walmart are all you need to start the season!
Team Wear
The High School Sailing Team has official gear (e.g. tech tees) which an be ordered. Please contact the coaches for the ordering information.
Emergencies and Dangerous Weather
Please note that we will notify parents/families of any cancellations and/or emergencies over the GroupMe app, and by cell phone. In the event of dangerous weather, such as a sudden thunderstorm, we will take shelter as needed in automobiles and in the club's storage buildings. You will be notified to pick up your sailor as soon as possible.
Mandatory Membership in LTYC & Sailing Team Fee
This is a two-step process!


You must be a member of LTYC for 2023. You may join at a reduced rate for the High School Sailing Team of $62.50 or their entire family can join for $125 a year. All members must join at this time, either at the family membership rate or the student rate.
The membership forms will be provided by the coaches.
The High School Sailing Team has a fee of $75.00 per semester to sail on the team, which you should bring to the first practice if not paid online. (make check payable to LTYC for $75.00).
Both are required before you may sail.
Waiver
Please complete the waiver. You may return it to the Coaches via email or print a copy and bring it to our first practice.
Contact
For further information, to contact the coaches, or chairs, or to apply, contact Lake Townsend Yacht Club High School Sailing Team Coaches .
Coaches
Conal Deedy
Sean Brady
Stacey Brady
Team Captains (oversee the team, help new members onboard, and help all team members)
Lilly Copplestone
Molly Lovvorn
Team Chairs
Marketing / Social Media Chair (social media accounts, marketing, and communications)
Membership / Recruiting Chairs (member outreach and onboarding)

Elizabeth Davis
Preston Miller

Equipment / Safety Manager (maintains equipment and keeps it race ready)
Socials / Fundraising Chair (fundraisers, social events)